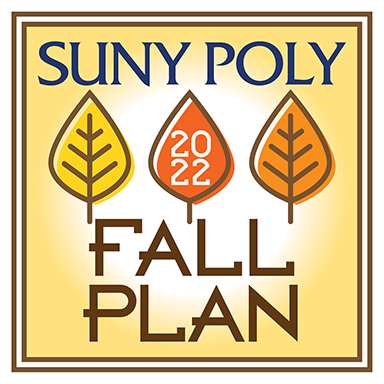 1.    Background
The State of New York and the entire nation continue to navigate the impacts from the COVID-19 pandemic. As federal, state, local, and SUNY health guidance changes, so too will SUNY Poly's approach, which has been established and is responsive to active campus needs through wide-ranging community stakeholder input.
This plan follows SUNY System Administration and NYS Department of Health guidance and is informed by county risk level designated by the CDC. Further details can be found in the FAQs. As federal, state, local, and SUNY health guidance changes due to the evolving COVID-19 pandemic, SUNY Poly's rules will also evolve as the institution receives new guidance and/or regulations are promulgated. SUNY Poly reserves the right to change its policy in regards to these matters and will provide updates as needed on the SUNY Poly website.
We will keep our campus community updated about the latest COVID-19 information and impact in a number of ways:
Please monitor your SUNY Poly email daily for important updates. The most important information will be sent to you via e-mail, in addition to social media posts via SUNY Poly's official accounts.
SUNY Poly's COVID-19 resource webpage includes resources, communications, and safety information.
Please follow SUNY Poly's social media channels which will share important information, updated procedures, and health/wellness guidelines:
2.    Mandatory Vaccination for Students
All SUNY Poly students with an on campus presence are required to be fully vaccinated against COVID-19 pursuant to the SUNY COVID-19 Vaccination Policy. In order to be considered fully vaccinated for the initial course of vaccination, an individual must have received the one-dose Johnson & Johnson/Janssen vaccine, the two-dose Pfizer/BioNTech or Moderna vaccines, or other authorized vaccine series. Individuals are considered fully vaccinated two weeks after receiving the course of vaccination. This mandate is in effect for any SUNY Poly student coming to any SUNY Poly campus or facility for any reason during the 2022-23 academic year. Once a student receives their COVID-19 vaccination, they must submit proof to the Wellness Center, Suite 217 Campus Center, by fax: (315) 792-7371, or by emailing: wellnesscenter@sunypoly.edu. Proof of vaccination status should be provided prior to students coming to campus. Booster doses are strongly encouraged though not required at this time.
Acceptable proof of vaccination includes: a picture or photocopy of the front of the vaccination card, immunization report, or a screenshot of an Excelsior Pass.
All students are strongly encouraged to stay up to date on their vaccinations as defined by the Centers for Disease Control and Prevention (CDC), including obtaining any booster authorized by the FDA and recommended by the CDC for their age group.
Students enrolled in any program, course, or who are participating in a clinical/internship that is held at a third-party location, must comply with all health and safety guidelines applicable, including any vaccination protocols that are in place.
Students may request an exemption from the COVID-19 vaccination requirement for medical or religious reasons. Any SUNY Poly student with a legitimate and documentable reason why they cannot receive the COVID-19 vaccine must submit an exemption request by August 1, 2022.  To submit a medical exemption request forms may be obtained by request from wellnesscenter@sunypoly.edu. Religious exemption forms are available upon request at studentaffairs@sunypoly.edu. New students or those with extenuating circumstances prohibiting them from submitting an exemption request by the deadline must notify Wellness (medical) or Student Affairs (religious) immediately. Students who fail to comply with the vaccination mandate or who did not receive an approved exemption will be subject to the SUNY Poly's Student Code of Conduct (Community Standards Office).
Students who choose not to get vaccinated against COVID-19 are permitted to enroll in online courses only (no in-person classes) and are not permitted to access any in-person campus activities or services. Only those remote and/or online courses already offered in that modality will be available for students who are not vaccinated and have not been granted an exemption through SUNY Poly's process. In addition, students should be aware that the SUNY tuition and fee refund policy remains in effect for any student who refuses to be fully vaccinated and is not approved for an exemption.
If you are 100% online and will not be physically present on campus during the Fall 2022 semester for any reason (which includes office hours, athletics, working on campus, or to utilize services such as the library, fitness center, gym, or dining), you are required to complete the Fully Remote Attestation.
3.    Pre-Semester Testing
All students who will be on campus during the Fall 2022 semester must attest to having received a  negative COVID-19 test result from within 24 hours prior to arrival to campus. Information about how to submit your attestation will be emailed to all students.
Please note a negative antigen (at home) rapid test is now acceptable.
All residential students are required to test upon arrival to campus.
Students who are present on campus at other times due to campus obligations (e.g., orientation, training, athletics participation, etc.) may be required to participate in additional testing depending on the dates they will be present. Students who are part of any such cohort should monitor their email for related update communications.
Please see the student testing webpage.
Please see the employee testing webpage.
Please note that as a result of the SUNY Poly-University at Albany Partnership, SUNY Poly Albany campus residential students residing at Freedom Apartments will also be required to follow the University at Albany requirements and testing protocol. Please find more information here: https://www.albany.edu/covid-19.
4.    COVID-19 Testing
Unvaccinated/vaccine exempt individuals: Mandatory monthly testing for this cohort will be required for any student who has a physical presence on campus, who has not been fully vaccinated, and who has received an approved exemption. See below for more details. Surveillance Testing for Unvaccinated/Exempt Students is scheduled to take place monthly.
Surveillance Testing for Students who have Provided Proof of Full Vaccination: This is scheduled to take place upon return to campus and the last week in November.
Employee testing is required at the end of August; optional testing is offered throughout the Fall 2022 semester.
Please find full testing schedules and protocols on the Student Testing Page and Employee Testing Page.
Symptomatic Cases:
Testing of students who display COVID-related symptoms will continue through the Wellness Center or other off-campus options. (Please note fees may apply for off-campus locations).
Reporting:
SUNY Poly will continue to report testing results through the  SUNY Health Portal. SUNY maintains a comprehensive dashboard of COVID-19 testing and infection rate status across the system and at each campus, including data from SUNY Poly.
Noncompliance:
Any incidents of non-compliance with campus testing will be handled through SUNY Poly's Student Code of Conduct (Community Standards Office) for  students and Human Resources for employees.
Additional Testing:
SUNY Poly may impose more frequent testing of students  and employees, regardless of vaccination status, based on the impact of COVID-19 illness conditions (e.g., community and/or campus levels) that may warrant additional measures.
Additional Resource: NYS COVID-19 Treatment Hotline: 888-873-2869 (888-TREAT-NY): All New Yorkers outside of New York City, regardless of income or health insurance coverage who test COVID-19 positive, are eligible to be evaluated for treatment by calling the number above or completing an evaluation at the NYS COVID-19 ExpressCare Therapeutics Access website, which includes a telemedicine visit. New York City residents should call 212-COVID-19.
5.    Daily Health Screening
While not required to submit a daily health screening form, students, faculty, and staff are encouraged to perform daily self-health screenings for infectious illnesses, including COVID-19. Anyone with signs or symptoms of infectious illness is asked to stay home when sick and/or seek medical care. Utica campus students should contact the Wellness Center at 315-792-7172. Albany campus students should contact Student Health Services at 518-442-5229 but must still notify the SUNY Poly Wellness Center in the event of a positive result.
6.    Pivot to Remote Instruction or Activity
Should SUNY Poly need or be required to pause campus activities in cases of increased community transmission, in-person activities may move online or be cancelled as necessary, and updates with protocols for faculty, staff, and students will be provided by email along with alerts via social media.
 
If SUNY Poly must switch to remote instruction for the remainder of the semester, the following rules may apply:
Academic operations in a remote (online) environment
Faculty, staff, and students would receive additional information about any shift from campus to a remote (online) environment via e-mail.
Blackboard will remain as the primary online learning environment. All learning materials and links to remote (online) class sessions will be made available to students via Blackboard.
Facilities will be closed wherever needed, maintained at base operational levels, and only accessible to essential personnel.
Move-out process
An emergency shutdown of Residential Life Operations may require students to make a complete residential move out. Please consider this as you pack for the fall semester. Albany campus residential students will follow the UAlbany move out protocol.
The campus will consult and follow the guidance of local health departments in order to stop the potential spread of COVID-19.
Students will be notified of the necessity to check out via SUNY Poly email.
Students will also be notified via email and web postings about COVID-19 testing requirements.
Checkout will be handled using a socially distanced structure, appropriate distancing and face coverings will be required.
All students must vacate the residential complex within 48 hours of a presumed negative test result in the event of an emergency shutdown of Residential Life Operations.
Residential students will utilize the housing portal to confirm their knowledge of the shutdown and to schedule a departure time. Students who are unable to depart campus immediately will be able to request an extended stay.
In the event of an emergency shutdown, move-out assistance may not be permitted. Students are expected to depart campus immediately upon completion of the move-out process.
Accommodations will be made for international students or those with special needs to remain on-campus.
Following move out, Residential Life and Facilities staff will complete room inspections and end of semester cleaning.
Medically isolated or quarantined students
Students isolated or quarantined at the time of shutdown will remain in their assigned quarantine or isolation location until the Wellness Center and/or County DOH determine it to be safe for them to move out.
All services will remain in place for isolated or quarantined students during shutdown.
7.    Cleaning Protocols
SUNY Poly will assess and ensure that all cleaning protocols are in compliance with NYS DOH and CDC guidance. Additional resources regarding cleaning/disinfecting and protecting oneself include:
8.    Ventilation and Air Filtration
SUNY Poly has increased outdoor airflow (ventilation rates) in indoor settings to the extent it is compatible with individual comfort and safety, equipment capabilities, and in accordance with building codes and standards, as well as applicable lease, contract, or other use agreement requirements. Visit the FAQs to learn more.
9.    Masks and Social Distancing
Masking indoors is optional for all individuals on campus, except in the following situations:
Wellness Center (due to elevated risk) requires masking by all who enter, work in common areas, or directly interact with patients.
Individuals returning to campus activities following release from isolation will be expected to continue to wear an approved well-fitted mask until Day 10 after symptom start date or date of positive test, whichever is later.
All individuals should be considerate of others' masking preferences. Faculty and staff may request others to wear masks when in a small office/classroom/room where social distancing may not be possible. Such requests may be in support of individual or family health needs, so compliance with such requests is strongly encouraged as part of SUNY Poly's caring community. Please be respectful of other people's circumstances.

Based upon the CDC designation of a campus location being within a "high risk" region, at that time and in that location, masking may be required by SUNY Poly or by faculty and staff in circumstances where social distancing may not be possible.             

For more information on when to wear a mask as suggested by the CDC: https://www.cdc.gov/coronavirus/2019-ncov/prevent-getting-sick/about-face-coverings.html
More Information:
a) Special consideration. Pursuant to the CDC, "A person with a disability who cannot wear a mask, or cannot safely wear a mask, because of a disability as defined by the Americans with Disabilities Act (42 U.S.C. 12101 et seq.)" may submit a request to Student Accessibility Services at SAS@sunypoly.edu (students) and Human Resources at HR@sunypoly.edu (employees) for consideration of an exemption from mask wearing based on a medical accommodation, regardless of vaccination status. These individuals should be aware of the risk posed by not wearing a mask in certain situations, and should take extra precautions to protect themselves (e.g., social distancing).
b) Community and campus transmission. Additional requirements may be imposed if there are increasing COVID-19 transmission rates on campus or in the surrounding counties.
10.    Residence Halls, Quarantine and Isolation Space
CDC Guidance indicates that individuals who are up-to-date with COVID-19 vaccination (and booster if eligible) do not have to quarantine unless they are symptomatic, and should test at least 5 days after the exposure. The wearing of face coverings in public for the 10 days following exposure (regardless of status) is required. All individuals who test positive must isolate for a minimum of 5 days.
To meet these needs, SUNY Poly's Utica campus has dedicated quarantine and isolation rooms in Hilltop Hall, Adirondack Hall, and other locations as needed. SUNY Poly's quarantine/isolation team provides all wrap-around services for those students in quarantine and isolation. These quarantine and isolation expectations are detailed here.
Similarly, Albany campus quarantine needs for residential students are met through the institution's partnership agreement with the University at Albany.
11.    College in High School
Students in concurrent enrollment programs must follow the health and safety guidelines and protocols of SUNY Poly. If the course is  delivered at their high school, they must follow the local school district guidelines. If a student takes a course on campus, they must follow SUNY Poly's guidelines, with the exception that high school students will only be subject to vaccine and testing requirements as designated by New York State local health departments and guidelines provided by local school districts.
12.    Visitors and Guests
Visitors to campus must follow any SUNY Poly, New York State and/or local health guidelines.
Off-campus visitors to residence halls must follow all policies in place and may visit/stay with residential students; based upon CDC, SUNY, and other guidance and designations of a campus being within a "high risk" region, at that time in that location, this may be changed or revoked. Please read the "Can my friends visit me in my residence hall room on the Utica campus?" FAQ for more details.
Albany visitors should follow NY CREATES protocols: more information is available on the NY CREATES website.
13.    Travel
SUNY Poly travel information should be reviewed before planning any travel.
 
For international travelers, the CDC website provides country-by-country breakdowns and expectations for traveler with a listing of prohibited travel from certain countries. In addition, the U.S. Department of State provides travel advisories for all countries or areas. SUNY Poly community members should review and follow these guidelines, recommendations, and requirements when considering or planning trips and travelling. Travelers should check for updates on a regular basis.
14.    Mental Health
Given the unprecedented times for students, SUNY Poly is striving to increase support for mental health services among our campus community, including through the following initiatives and resources.
The SUNY Poly Wellness Center in Utica provides medical, counseling, and health promotion services to students. The Counseling Center is located in the Wellness Center (Campus Center, Suite 217).
Counselors are available for individual in-person, telephone, and virtual (tele-counseling and tele-psych) counseling sessions. In-person and virtual group sessions may also be available. Appointments are required. Please call 315-792-7172 to make an appointment.
The SUNY Poly Albany campus students have counseling and psychological services provided via a contract with UAlbany. Appointments are required.
Counseling services are confidential, voluntary, and by student request. Counselors will only communicate with a parent/guardian if written consent is obtained from the student.
All students, residential and commuters, known to be in quarantine or isolation are contacted by SUNY Poly Quarantine and isolation team staff, providing information regarding available support services, including counseling. A follow-up email is sent, outlining the detailed services. Phone and/or email contact is continued throughout the quarantine and isolation period with the students to ensure health and academic success. Residential students also receive a phone call directly from a counselor, which identifies any mental health needs with follow-up care, if applicable.
Crisis intervention services may be provided by our licensed counselors, with referrals to local mental health services for students at high or imminent risk of harm to self or others.
SUNY and SUNY Poly provide the following resources to help students receive support:
Additional Resources Include:
NYS Hotline (General COVID-19): 1 (888) 364-3065
New York State Hotline (Emotional Support): 1 (844) 863-9314
Disaster Distress Helpline: (800-985-5990), or text TalkWithUs to 66746.
Veterans Crisis Line: (800-273-8255 and press 1) or text 838255
Trevor Lifeline: LGBTQ community: (866-488-7386) or text START to 678-678.
For frontline workers dealing with anxiety, stress, fear, isolation, or other difficult emotions, text FRONTLINE to 741741
SUNY Poly's Care Team is an additional resource for students, faculty, and staff to utilize to identify students of concern or in need of support. The Care Team, which meets weekly, addresses challenging, disruptive, or harmful behavior and situations by providing helpful interventions that are aimed at community safety and student success. Care exists to promote and maintain safety and health by identifying and assisting struggling students to become more connected to services. Some referrals may include mental health care and/or safety intervention.
SUNY Poly is committed to providing access to mental health resources for employees who are struggling during difficult times. The New York State Employee Assistance Program (EAP) helps state employees balance the demands of work, home, and life. EAP is a Work-Life Services benefit sponsored jointly by labor and management and is available to New York State employees and their families. To reach an EAP coordinator, please visit the NYS EAP website. The number to contact is 1-800-822-0244.
Below are some additional resources that may be useful for employees:
15.    Intercollegiate Athletics
NCAA varsity intercollegiate athletics training and competition is scheduled to continue during the Fall 2022 semester. All NCAA, NAC, CDC, SUNY, SUNY Poly, New York State, and regional health guidance and protocols will continue to be observed and enforced to ensure that the training and competition environment remains healthy and safe for participants and spectators.
16.    Get Instructional and Technology Help
ITS has provided a means to request software necessary for class work to meet the fall 2022 academic technology requirements. Please contact ITS at helpdesk@sunypoly.edu for information.
17.    Request Accommodations for Disabilities
Students who wish to disclose documented disabilities and be considered for reasonable accommodation(s) should contact the Office of Student Accessibility Services at SUNY Poly:
18.    Refunds of Housing Payments and Fees
If the campus closes early in the event of a shutdown, students may receive a credit to their account or a refund for the days reduced.
Students who choose to leave campus on their own, outside of an emergency shutdown, will not be eligible for a refund of housing costs and will follow the refund policy in place for housing.
Broad Based fees will only be reduced if services or benefits cannot be provided. The Health Service and Technology fees will not be adjusted as these services can be provided either remotely or through an on-campus setting through the entire semester.
Thank you in advance for everything you are doing—and will do—to make the fall 2022 semester successful for you, your fellow students, and the campus community and beyond.