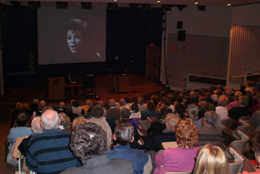 MVILR members pay an annual membership fee, elect officers, and provide stimulating educational opportunities for themselves and their peers in the community. Courses are planned and led on a volunteer basis by our own members and invited guest speakers, and vary in length from a day to eight weeks. Members may enroll in a minimum of three courses per session and sign up for additional classes where seats are available. They receive the MVILR catalog, plus newsletters, E-news and invitations to social events, lectures, and field trips. Members also receive a SUNY/MVILR membership card, which is to be worn on campus.
Membership may be established or renewed at any time.  If you would like to join the mailing list, or know someone who would be interested, please send us an email.
Annual Membership Fee
Full - $250 per member plus $25 for SUNY Poly parking sticker.
Partial (Fall and Winter OR Winter and Spring) - $185 plus $25 for SUNY Poly parking sticker
MVILR Brochure (pdf)
MVILR Membership Form (pdf)
 
Advantages of Membership:
Members may register for three academic courses during the first week of registration equaling 12 hours of classes for Winter Term and 24 hours for Fall and Spring Terms 
Plus, you may register for Special Interest Group and Health & Wellness courses as available
Additional academic classes can be added after the first week of registration is completed where seats are available
You'll receive MVILR newsletters and E-news throughout the year
Invitations to MVILR social events
The opportunity to join the SUNY Poly athletic facility
Discounted Commuter Meal Plan at the SUNY Poly Campus Center Cafeteria
The opportunity to make new friends with similar interests
The Mohawk Valley Institute for Learning in Retirement admits students of any race, color, and national or ethnic origin.
To join or renew a membership:
Mail - print registration form and send it to MVILR with a check or credit card information
In Person - come to the MVILR office, B234 Kunsela Hall (CPE Suite)
Phone - Call 315-792-7192 or 315-792-7292