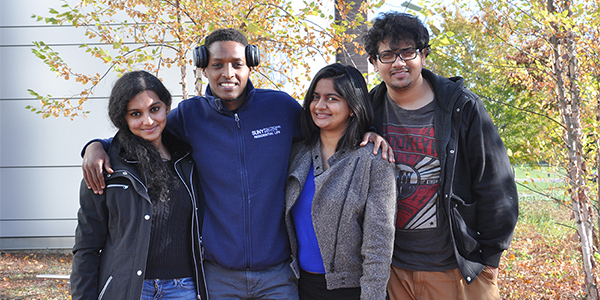 Through the Office of Graduate Studies, Graduate Diversity Fellowships are awarded annually to qualified graduate students. Awards may include a tuition waiver and/or cash stipend.
Eligibility
Applicants must be accepted/enrolled students in a SUNY Poly graduate degree program and US Citizens/Permanent Residents.  Current students must be in good academic standing with a minimum GPA of 3.0.
Application Process
Within a written statement of 250-500 words or less, applicants are strongly encouraged to include how personal experiences/background will contribute to expanding the diversity of SUNY Poly. Interested Students are welcome to apply using the Graduate Diversity Fellowship Application. Historically underrepresented minorities (American Indian or Alaskan Native, Black or African American, Hispanic or Latino, and/or Native Hawaiian or other Pacific Islander), first-generation college students, women in STEM, and/or have a history of overcoming disadvantages are strongly encouraged to apply.
Application Deadlines
The submission deadline is December 1 for spring admission and July 1 for fall admission.
Awards are subject to the availability of state funds.
Questions should be directed to Krista Thompson, Assistant Dean of Graduate Studies, Office of Graduate Studies at (518) 956-7475 or via email to graduatestudies@sunypoly.edu. 
2020-2021 Diversity Awardees
| | | | |
| --- | --- | --- | --- |
| Melanie DeWitt | Karli Griffith | Aysel Ishayeva | Olga Tobler |
| Miriam Toro | Lynn Tran | Say Wah | Jiancai Zhu |