Utilizing Career Services | Career Planning | Internship Information
Workshops | Finding a Job | Business Etiquette Luncheon

Internship Information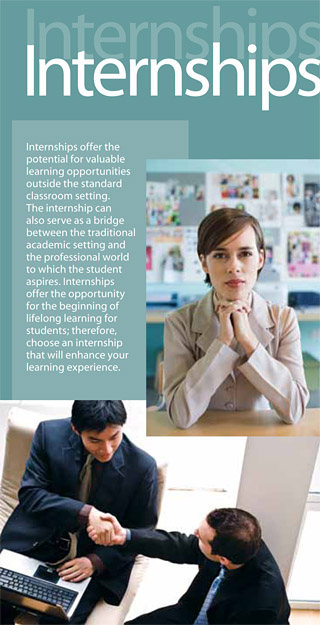 Career Services will assist in making internship opportunities available to students.
According to the National Association of Colleges and Employers 2012 Student Survey, paid interns have a distinct advantage in the job market. Overall, approximately 60 percent of 2012 college graduates who took part in paid internships received at least one job offer. The survey also found that unpaid interns fared only slightly better in getting job offers than graduates who had not taken part in an internship. Overall, 37 percent of unpaid interns received job offers; 36 percent of graduates with no internship experience received job offers. The advantage of the paid internship is especially true among students performing internships in the for-profit sector: Among those interning for for-profit employers, 64 percent earned job offers compared to 38.3 percent of their unpaid peers. Pay status, however, also favors students in the nonprofit and government sectors. NACE's 2012 Student Survey was conducted mid-January through April 30, 2012. Nearly 48,000 college students nationwide, including 15,715 seniors at the bachelor's degree level, took part in the survey.
When an internship is secured, the forms listed below need to be completed, signed, and returned to Career Services.
Internship Brochure (pdf) 
Forms
Students
Internship Learning Contract (pdf)
Student Evaluation of Internship (pdf)
2017 SUNY Poly Summer Internship Program Application
Employers
Employer Evaluation of Student Intern (pdf)
Check out:

InternShop, a partnership between The Business Council and SUNY, is a Software as a Service platform that matches employers with interns across the state. This is a one-stop platform for employers to engage with all 64 SUNY campuses to share meaningful and relevant paid internship opportunities. LEARN MORE
Helpful Links

New York Internship Opportunities
Global Database of Internships
Internship and Job Search Advice (Job Choices 2012)
Internship Opportunities in NYS Government
Profit & Non-Profit Internships
Vault's Guide to Top Internships
Search by

City/State