Are you interested in studying abroad?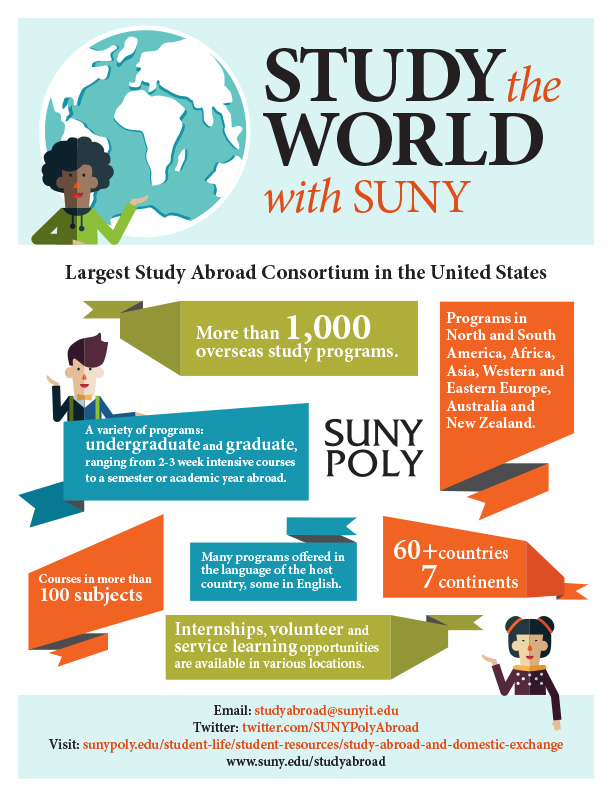 Welcome! We are very excited that you are making your first step to study abroad as a SUNY Polytechnic Institute student! Never has the world seemed so small; you will experience new cultures, languages, customs, and be able to experience something you may have never thought possible. Not only will your time abroad be a valuable experience to share with prospective employers; studying abroad will have a lasting effect on the way you see the world and is truly a life changing opportunity.
As a SUNY Poly student you have access to any SUNY campus' study abroad programs, which include over 1,000 options. Please visit the following link to explore your options: suny.edu/studyabroad. You can search by major, location, or length of program to narrow your list of options. Each program has their own admissions deadlines and requirements so be sure to research your options early.
View more study abroad possibilities for SUNY Poly students.
Students typically study abroad during their junior year; however it is possible to study as a senior or second semester sophomore. Studying for an academic year, semester, summer, or winter terms are all available options as different students have different obligations on campus or preferences as to how long they wish to be abroad. It's very important to meet with your academic adviser prior to going abroad to discuss your academic plan and to make sure that the courses you take will apply to your degree requirements. Internship opportunities are also available.
You'll need to start planning up to a year before your
departure to ensure a smooth process.
Before you go, you'll need to:
Determine the semester and academic year you are considering
Identify a country, university, and program in which you are interested
Determine your eligibility
Speak with your academic adviser
Consider fees, financial aid, and transcript retrieval
Gather and complete formal paperwork/planning checklist
Keep in contact with your host campus
In order to start the process of studying abroad, please view our Study Abroad Student Information and Checklist (pdf) and Study Abroad Petition (pdf) forms.
Please contact the Study Abroad and Domestic Exchange team with any questions: studyabroad@sunyit.edu. We want to talk with you!  
Are you interested in domestic exchange study?
In addition to offering overseas study abroad options, SUNY Poly has joined the Washington Internship Program which is administered by SUNY Brockport. The program provides opportunity for undergraduate students to live, study, and work in Washington, DC while earning academic credits. 

Available Options 
Semester Program: 15 weeks, up to 16 academic credits earned by taking one class, engagement in an arranged internship, and preparation of a research paper.
Summer Program: 8 weeks, up to six academic credits, engagement in an arranged internship.
For more information, please visit the following website: brockport.edu/academics/washington  
*State University of New York (SUNY) policy prohibits SUNY Polytechnic Institute admission applications from inquiring into an applicant's prior criminal history. After acceptance, SUNY Poly shall inquire if the student previously has been convicted of a felony if such individual seeks campus housing or participation in clinical or field experiences, internships or study abroad programs. The information required to be disclosed under SUNY policy regarding such felony convictions shall be reviewed by a standing campus committee consistent with the legal standards articulated in New York State Corrections Law. Students who have previously been convicted of a felony are advised that their prior criminal history may impede their ability to complete the requirements of certain academic programs and/or to meet licensure requirements for certain professions. Students who have concerns about such matters are advised to contact the Vice President for Student Affairs Office at (315) 792-7505.