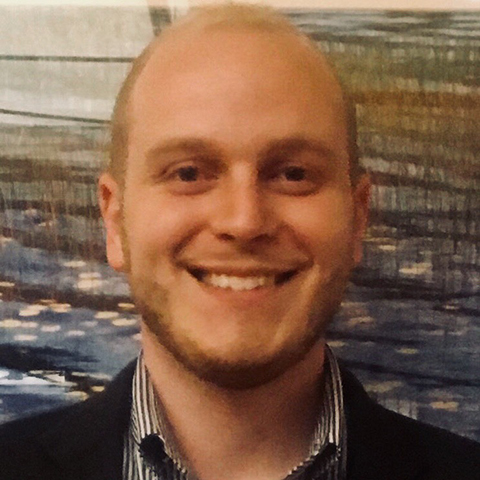 David Franklin '14
Major: Psychology
Hometown: Whitesboro, NY
Current Position: Research Associate with the Diagnostic Assessment and Achievement of College Skills (DAACS) and Adjunct Professor at The College of St. Rose
Why did you choose SUNY Poly?
After graduating from Mohawk Valley Community College (MVCC), I really wanted to continue studying psychology, and I wanted to stay local. My advisor at MVCC encouraged me to apply to SUNY Poly, so I did, and it was one of the best decisions I ever made.
How did you choose your major?
I initially studied Human Services at MVCC because I wanted to be a psychotherapist or a social worker. However, I gradually became more interested in the scientific side of psychology and decided to explore that further, so I switched to psychology and never turned back.
What was your favorite class?
My favorite class was Research Methods in Psychology with Dr. Paul Schulman. This class actually allowed us to conduct research rather than just listen to lectures. I found it really challenging, engaging, and fascinating. I thank that class for really igniting my interest in pursuing a career in research.
What activities were you involved in on campus? Why did you decide to get involved in these activities?
I got involved in designing and conducting research with Dr. Paul Schulman and Dr. Kazuko Behrens. I was told that getting involved in research was a great way to make myself a better candidate for graduate school. This turned out to be true, but these experiences also taught me a lot and helped me build relationships with two of my greatest mentors.
What is your favorite SUNY Poly memory?
My favorite SUNY Poly memory is running an experiment on drug tolerance with Dr. Schulman and wheeling a cart full of vials of white powder down the hall. It was only powdered caffeine, but I felt like Jesse Pinkman working for Walter White. Wow – I've never fully realized how much of a nerd I am until I answered these last three questions!
How did you end up working in your current field?
After graduating from SUNY Poly, I earned my master's degree in Educational Psychology and Methodology at UAlbany. I then started my Ph.D. and got involved with the project I'm working on now (Diagnostic Assessment and Achievement of College Skills, or DAACS). I just earned my Ph.D. in 2021 and, also, started a full-time position as a Research Associate on the DAACS project.
What are some of the greatest challenges and opportunities of working in your field?
I think that one of the greatest challenges of being a researcher, in general, is making sure your research gets translated into practice and policy. In my field, for example, we know a lot about human behavior and the science of learning, but there are major gaps between what we know and what policy makers do. Being a researcher also comes with many opportunities to help inspire these changes, however rare they may be. My favorite way of closing this gap is through teaching.
What opportunities did you have at SUNY Poly that helped you get where you are today?
I mentioned this in a previous question, but the opportunities I had to engage in research with Dr. Schulman and Dr. Behrens were the greatest opportunities I had and took advantage of at SUNY Poly.
What lessons did you learn at SUNY Poly that have served you well in your current profession?
I learned that it is best to find experiences that give you flow, which is the state of optimal experience where one is completely in the zone and engaging in an activity for its own sake—not for some reward or anticipated outcome. I found that teaching and research is what puts me in a flow state, which I would have never discovered if I didn't attend SUNY Poly.
What advice would you give to current or future SUNY Poly students?
Get to know your professors. Go see them in their office hours, ask questions, and be willing to discuss whatever it is you are learning about. Relationships and discussions are an underappreciated part of learning. You can't learn just by sitting in a chair (or in front of a screen) and listening to lectures, hoping to "absorb" the knowledge. You have to engage—and talking to professors is one of the best ways to do that.