B.A. in Interdisciplinary Studies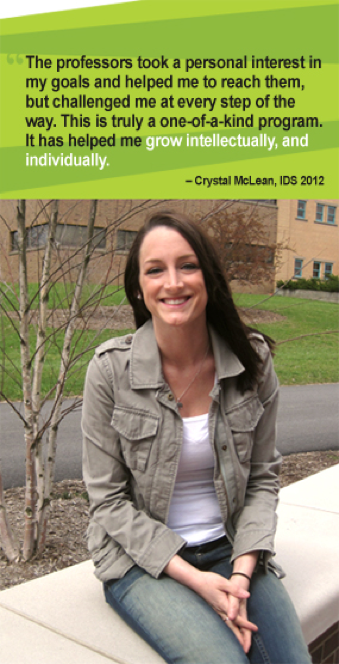 What is Interdisciplinary Studies?
Interdisciplinary Studies focuses on questions and problems that are most effectively addressed by integrating knowledge and skills from different fields of study.  In our interrelated, globalized, and technological world, the most significant challenges and opportunities are often too complex to be addressed by any single discipline. By teaching how to approach complex issues from multiple perspectives, Interdisciplinary Studies prepares students to be the adaptable, analytical, creative, and integrative thinkers that are increasingly in demand in a range of fields and professions tackling the challenges of 21st century global society.
Unbox Your Education, Design Your Life
The Interdisciplinary Studies Program at SUNY Poly is ideal for students who seek the flexibility and freedom to create a course of study that reflects their own intellectual interests and professional and career goals. Rather than following a standardized curriculum, students define their goals and design an individualized concentration that empowers them to achieve their objectives.  We believe that designing one's own education is one of the most transformative experiences a student can have and prepares our graduates to take control of their future.
Professions and Careers
The professions and careers that graduates of the IDS program have pursued are as varied and diverse as our students. These include careers in law, education, health professions, and a wide range of jobs in both the private and public sectors. See our Professions and Careers page to learn more about the opportunities made possible with an IDS degree.
Why choose Interdisciplinary Studies @ SUNY Poly?
The Interdisciplinary Studies Program at SUNY Poly is an emerging leader in interdisciplinary education. Our curriculum has been nationally recognized for its innovative approach with the program receiving a major grant from the National Endowment for the Humanities to develop new educational collaborations. We are a supporting member of the Association of Interdisciplinary Studies, the national organization for interdisciplinary education, which helps keep the IDS program up-to-date with the latest developments in the field.  We are known for outstanding teaching and two of our faculty have been awarded the SUNY Chancellor's Award for Excellence in Teaching. And we're especially proud of the accomplishments of our students who have been recognized with prestigious awards including the SUNY Chancellor's Award for Student Excellence and the SUNY Polytechnic Institute's President's Award, presented their research at the SUNY Undergraduate Research Conference, and competed and won at the New York State Business Plan competition.
---
Contact
Dr. Daryl Lee
Associate Professor of Humanities
Interdisciplinary Studies Program Coordinator
Phone: (315) 792-7320
Email: leed1@sunypoly.edu
Twitter: @polystemic
Connect with us on social media
---
Student Profiles
SUNY Poly Stories - Molly D'Agostino
---