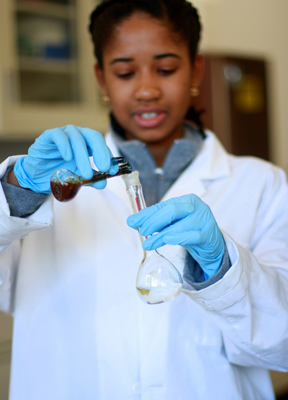 The main route of matriculation into the program is to apply to both programs simultaneously prior to beginning graduate studies in either discipline. See the admissions links below for SUNY Poly CNSE and SUNY Downstate College of Medicine for specific instructions.
Applications (submitted via the AMCAS standard medical school application) will identify the SUNY Downstate College of Medicine as the MD program and indicate interest in the combined MD/PhD pathway. In the supplemental application materials submitted to the Downstate School of Graduate Studies, applicants will indicate interest in the joint MD/PhD in Medicine and Nanoscale Science or Engineering. The Medical Center MD/PhD Admissions Committee will notify SUNY Poly CNSE, and the Nanomedicine Program Admissions Committee will receive the applicant's information. Applicants must also apply directly to SUNY Poly CNSE for their PhD and indicate their intent to enter the combined MD/PhD in Medicine and Nanoscale Science or Engineering.
Alternatively, currently accepted or enrolled students at SUNY Downstate College of Medicine or SUNY Poly CNSE may enter into the program by applying to the other institution for the degree they are not currently pursuing and indicate their intent to matriculate into the program. This route may require deviation from the intended program structure and is also subject to the availability of space and resources at the time of application. This is not the main route of entry into the program, however special cases will be considered.
Applicants must be accepted by both institutions for both degree programs and will be also be reviewed by the Nanomedicine Program Admissions Committee. This committee will make recommendations to the Nanomedicine Program Executive Committee, Program Directors, and the ultimate decision for admission will be rendered jointly by the Founding President and Chief Executive Officer of SUNY Polytechnic Institute and the Chair of the Medical Center Admissions Committee.
Admission Requirements
Admission to all SUNY Poly graduate programs requires an earned Baccalaureate degree or equivalent in the physical, chemical, biological, or computer sciences, mathematics, or engineering. A minimum GPA of 3.0 (out of a maximum of 4.0) is strongly recommended.
To be considered for admission, qualified individuals must submit the following materials:
Application for Graduate Admission
Official transcripts from all previous institutions of higher education 
An official score report for the general Graduate Record Examination (GRE). Because CNSE evaluates all elements of an individual's application, minimum required scores are not identified. Please note that GREs are not required for admission but are highly recommended.
Minimum of three complete recommendations for graduate study from past instructors, mentors, advisors, or managers who are able to assess the applicant's potential for success in graduate education and research 
A statement of purpose describing one's motivation for graduate study in the selected program 
Current résumé 
Appropriate application fee
International Applicants are required to submit the following additional materials:
Applicants whose native language is other than English must submit an official score report for the Test of English as a Foreign Language (TOEFL) demonstrating a minimum score of 100 (internet based), 250 (computer-based) or 600 (paper-based) OR the International English Language Testing System (IELTS) minimum score of 7.5.
Complete financial affidavit form with appropriate certifications
To ensure full consideration for financial support, your application for admission into a SUNY Poly graduate program should be received by February 1 for Fall admission and December 1 for Spring admission. Applications received after these dates will be reviewed on an individual basis. 
Any remaining questions or inquiries should be directed to the SUNY Poly CNSE Office of Student Services at: kthompson@sunypoly.edu