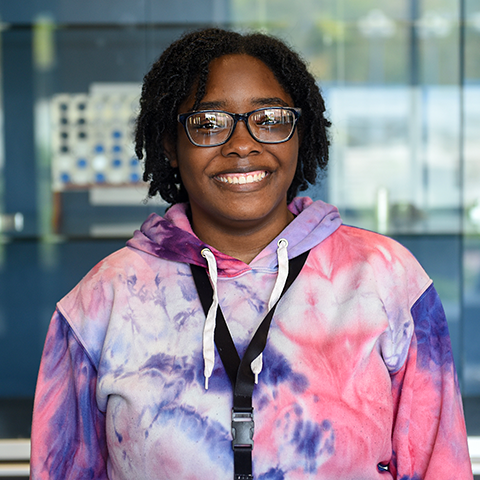 Drew Gregory
Major: Communication + Information Design (Communication + Media Design)
Minor: Business Management
Hometown: Queens, NY
Expected Graduation Year: 2023
Campus: Utica
Why did you want to become a Student Ambassador?
When I stopped being a resident advisor, I still wanted to do a job that involved talking to and meeting with new people. There are lots of clubs that would still allow me to do this, but I thought showing people around the campus and telling them my favorite parts would be more fun.
What has been your favorite part about being a SUNY Poly student so far?
My favorite part of being a SUNY Poly student so far is that no part of the campus is closed off to you. What I mean by that is, the campus has labs that some majors use more than others, but you don't need to be in that major to use that lab. You don't need an academic reason to use the labs as long as you have permission, you can use them.
What has been your favorite on-campus event?
My favorite on-campus event would have to be all the painting events that the RAs host. It's always fun to grab a canvas, sit down and paint with my friends and the RA. I also like that it allows me to see my RAs in a chill environment and be able to just talk with them.
What is your favorite place on campus and why?
My favorite place on campus is the library. I like the library because it's quiet and easy to be alone. I especially like to sit in the very back because most people don't go that far into the library.
Is it easy to get involved on campus? What clubs and/or organizations are you involved in?
It's easy to get involved on campus. At the beginning of the semester, there's an involvement fair that all the clubs go to and there are a ton of flyers around campus. In addition, no club requires you to have any prior knowledge or specific requirements to join. I'm currently part of the 3D printing club.
What is your favorite thing about the Utica area?
I don't explore the Utica area much, but I enjoy the food places that are closer to campus. There's the usual fast food places, lots of Asian cuisines, pizza, and more. There's a little bit of everything and it's not too far from campus.
What is one piece of advice that you would give to students who are thinking about applying to SUNY Poly?
My piece of advice would be to do your research on the area, especially if you come from a place like NYC. I would suggest visiting the school if you can, so you can see what the Utica area like to determine if you think you'd enjoy spending four years here.