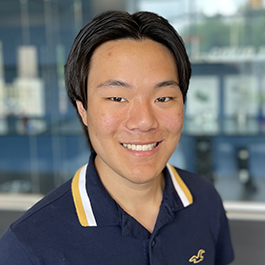 Jae Fish
Major: Sociology
Minor: Criminal Justice
Hometown: Schuylerville, NY
Expected Graduation Year: May 2023
Campus: Utica
Why did you want to become a Student Ambassador?
I wanted to become a student ambassador to meet incoming and prospective students and show them around our amazing campus and show the amazing resources and opportunities that SUNY Poly has to offer.
What has been your favorite part about being a SUNY Poly student so far?
My favorite part of being a student is being able to be involved in so many different student-run organizations and clubs and creating memories and friendships through them.
What has been your favorite on-campus event?
My favorite on campus event is Carnival Day, where we bring in different carnival games and rides in celebration of the end of the academic year.
What is your favorite place on campus and why?
The Student Center. Many of the on-campus events happen in this building along with the food, game room, and movie theater. The Student Center is a great spot to hang out on campus.
Is it easy to get involved on campus? What clubs and/or organizations are you involved in?
It's easy to get involved on campus. I am the Student Government at Utica (SGU) President, in the Golf Club, and have helped start several other clubs.
What is your favorite thing about the Utica area?
I love how close everything is. Most of the time the distance between our campus and any spot in Utica is within 10 minutes.
What is one piece of advice that you would give to students who are thinking about applying to SUNY Poly?
I would recommend talking to as many individuals on campus as possible, from students to administrators, each person's experience will differ.