The additive manufacturing lab has extensive capabilities through the use of open-source printers, proprietary printers as well as specialty printers. Students and additive manufacturing training often progresses through the use of the open-source printers and specifically the development and use of CAD drawings and their translation into effective print files yielding a successful 3D build. If projects demand more complex print materials or design and finishing specifications, proprietary and specialty 3D printers are utilized.
3D Printer FAQS:
Open-source 3D printers include:
Creality Ender 3/3 Pro
Creality Ender 5 Plus
Bibo Dual Touch
FLSUN Delta
Printer
Printing Technique
Materials
Benefits
Uses
Open-Source
FDM
PLA, ABS, PETG, PC, POM, Blends (Wood-fill, Metal-fill)
Highly customizable settings


Highly customizable settings
Common printing requests

 
Cubepro
Cube 3
Raise3D Pro 2
| | | | | |
| --- | --- | --- | --- | --- |
| Printer | Printing Technique | Materials | Benefits | Uses |
| Proprietary | FDM | PLA, ABS | Easy to use | Common printing requests |
Markforged Mark Two
Objet 3000 Prime
Stratasys Dimension 1200es
Formlabs Form 3
BIOX
Printer
Printing Technique
Materials
Benefits
Uses
Specialty printers
 
 
 
 

Markforged
Mark Two

FDM - Composite

Polymer: Nylon, Onyx;
Composite: CF, Kevlar, FG

 

Robust, high-strength parts
Capstone and company requests. Prints in need of strength or durability
Objet 3000 Prime
Polyjet
Resin: MED610, Clear
High detail
Larger, high detailed parts
Stratasys Dimension 1200es
FDM - Dual Extrusion
ABS+ w/ Soluble Support
High dimensional accuracy
Dimensionally accurate components with complex geometry
Form 3
SLA
Resin: Clear
High dimensional accuracy
Research; small, highly accurate components
BIOX
Gel
Gel: Cellink, GelMA
Biocompatibility
Research, biocompatible requests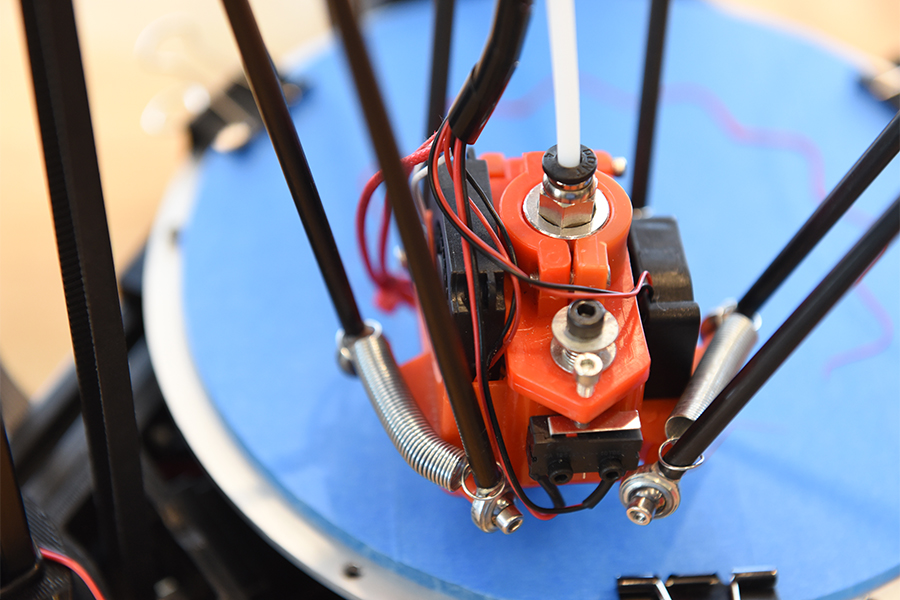 One of many 3D printers at SUNY Poly.
3D printer located inside the Additive Manufacturing Lab.