Welcome to the College of Business Management (CBM) at SUNY Polytechnic Institute. Being a business school within a polytechnic institution, the CBM strives to provide life-transforming opportunities for our students to pursue business education in innovative and technology-rich learning environments.
The CBM offers the following business programs:
Undergraduate
Accounting

Bachelor of Science in Accounting (BSA)

Business Administration

Bachelor of Science in Business Administration (BSBA)
Bachelor of Business Administration (BBA)
Note: While both degrees require a total of 124 credits, BSBA requires 48 business credits and BBA requires 60 business credits.

Finance

Bachelor of Science in Finance (BS in Finance)
Bachelor of Business Administration in Finance (BBA in Finance)
Note: While both degrees require a total of 124 credits which include 15 finance credits, BS in Finance requires 33 business credits and BBA in Finance requires 47 business credits.
Graduate
Accountancy
Technology Management
The CBM also offers minors in Accounting, Business Management, Finance, and Marketing. Currently, most undergraduate classes are taught on campus, and all graduate classes are delivered completely online. Strategic initiatives are being taken to foster innovative learning environments through hybrid delivery modes, joint programs, cohort offerings at high-demand locations, etc.
As a clear indication of the high quality of our programs, the CBM is accredited by the Association to Advance Collegiate Schools of Business (AACSB). AACSB accreditation is the hallmark of excellence in business education, and has been earned by only 5 percent of the world's business schools.
Experiential learning components are integrated in the programs, and engagement opportunities are provided for students to experience the practice of business. Our faculty and staff undertake a wide range of academic and professional engagement activities. We maintain close relationships with our alumni and community partners, and sincerely appreciate their continued support.
I look forward to meeting you on campus, online, or at engagement activities and events.
At your service,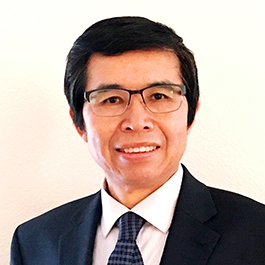 Xinjian (Arthur) Lu
  Dean, College of Business Management