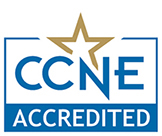 The curriculum combines elements of the BS program with the MS program and streamlines the BS program by substituting several traditional nursing courses with select accelerated courses. Full-time study is required to proceed through the program at an accelerated pace. At the end of the program, the successful graduate will be eligible to seek national certification. The RN to BS/MS student will receive both BS and MS degrees upon program completion.
Part-time study is only available to students transferring in sufficient number of credits to complete the baccalaureate component within one year.
---
Program Requirements
Students requesting admission to the Accelerated RN to BS/MS Program must meet the following requirements:
Hold an associate's degree with a major in nursing from an accredited program, with a minimum 3.2 GPA (on a 4.0 scale) for the last 30 hours of undergraduate course work.
Be currently licensed (an unencumbered license) as a Registered Professional Nurse in New York State.
Have completed the equivalent of one year of work experience in nursing (at least 2000 hours).
Students enrolled in the Accelerated BS/MS program with a Major in Nursing Education can expect to complete the degree requirements within three years of full-time study after completion of an associate degree nursing program (Master's level coursework may be completed on a full-time or part-time basis). Students wishing to enter this program must have completed at least 64 applicable lower division credits and have taken the following courses prior to starting the program:
English Composition
Anatomy & Physiology I & II
Microbiology
Introduction to Psychology
Introduction to Sociology
Developmental Psychology
AND at least two of the following courses:
Statistics
Cultural Anthropology
Genetics
Students will need to complete three of the following SUNY General Education silos if they do not transfer in sufficient upper division credits:
American History
Western Civilization
Other World Civilization
Language
Arts
Humanities
To be considered for admission into this program we will need the following documents to complete your portfolio for review:
Official transcripts from colleges previously attended; transcripts must reflect an associate's degree in nursing and an overall GPA of a 3.2
EMPLOYMENT VERIFICATION form - this form must reflect your most recent 2000 hours of work experience as a registered nurse; use separate forms for each employer needed to reach the total of 2,000 hours. 
WRITING SAMPLE adhering to specific guidelines
Candidates may be required to participate in a personal interview with a member of the nursing faculty.
Degree requirements can also be found in the ACADEMIC CATALOG.
Please send materials to:
SUNY Polytechnic Institute
Office of Admissions
100 Seymour Rd
Utica, NY 13502
---
Sample Program of Study (pdf)