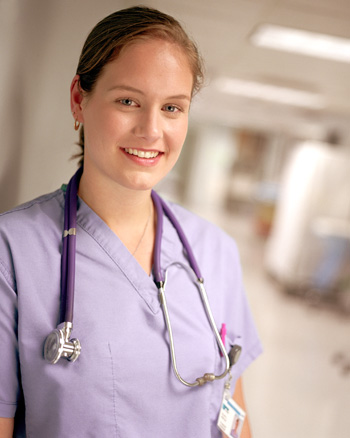 The 1+2+1 Nursing Partnership Pathway is a truly unique college experience with a goal of delivering a strong educational foundation during the first year of study at SUNY Polytechnic Institute. The development of this foundation is then coupled with a hands-on learning approach in years two and three at St. Elizabeth College of Nursing (SECON) where students will complete over 600 hours of clinical time. A student completing the 1+2+1 Partnership Pathway will earn both an associate's degree and a bachelor's degree in nursing in four years.
SUNY Poly and St. Elizabeth College of Nursing take pride in the individual advisement and attention given to students. Together we are stronger in preparing students to be successful nurses in the 21st century!
SUNY Poly provides:
Technologically sophisticated classrooms and laboratories
Personal mentoring by faculty and staff
A full range of recreational and extracurricular activities on the most beautiful campus in the SUNY system
St. Elizabeth College of Nursing provides:
The best preparation to work in today's fast-paced health care environment
One-to-one relationships with faculty
The most extensive hands-on clinical experience (over 600 clinical hours) available in a nursing program today
Benefits of the 1+2+1 Nursing Partnership:
Students have the opportunity to live on-campus at SUNY Poly for all four years.
Students will complete both the RN and BSN program in four years. Students are not waitlisted.
The nursing curriculum is carefully designed to support academic success.
Graduates of the partnership program are in high demand; SUNY Poly has earned top accreditations and St. Elizabeth's NCLEX-RN® pass rate is one of the top in the state!
---
FAQs
The 1+2+1 Nursing Partnership Pathway is intended for high school students who are immediately entering college, following graduation. Students who wish to transfer into the pathway program must meet certain eligibility requirements. Contact admissions@sunypoly.edu to set-up a meeting with a counselor to learn more.
Students and parents are invited to join both SUNY Poly and SECON at their Open House programs. Visit each campus website for visit information:
Apply online by submitting the SUNY Application or The Common Application.
To complete your application you will also need to submit:
An official high school transcript
Two letters of recommendation
Supplemental Application (only required if applying with the SUNY Application)
Important notes about applying:
When filling out the on-line application, you must choose Undeclared as your SUNY Poly major. When you select 'Undeclared,' you will have the option to "see notes." Under the notes section, select NSGSE for the Special Campus Project Code as prompted.  
The submission of SAT and/or ACT scores is optional (College Board/SAT School Code: 0755, ACT School Code: 2953).
Admission to the 1+2+1 program is competitive and each application is reviewed on an individual basis to determine a student's fit and potential for success in this unique degree option.
Shortly after applying, you'll receive an email from SUNY Poly Admissions inviting you to create a login to the applicant portal to track your application status, see your checklist of application materials, and eventually review your admission decision.
The processing of your financial aid is based on your class year and campus of enrollment.
Years 1 & 4 @ SUNY Poly:
Complete the FAFSA with SUNY Poly Title IV School Code 011678
Complete the NYS TAP application with SUNY Poly School Code 4975
Years 2 & 3 @ SECON:
Complete the FAFSA with SECON Title IV School Code 006461
Complete the NYS TAP application with SECON School Code 0710
Important note regarding financial aid and course load:
The faculty at both SUNY Poly and SECON have worked together to develop a detailed plan of study that allows 1+2+1 students to be enrolled full-time each semester so they are able to receive financial aid if eligible. Taking courses out of sequence or transferring in certain courses may result in the inability to secure a full-time course schedule during years 2 and 3 in particular. Students may still receive federal and state financial aid, however it would be prorated on their actual enrollment status.
Contact the appropriate Financial Aid Office with questions:
SUNY Poly: (315) 792-7210 | finaid@sunypoly.edu
SECON: (315) 801-8206 | wojnas@secon.edu
Merit scholarships awarded by SUNY Poly are applicable to years 1 and 4 of the program and are applied towards SUNY Poly's cost of attendance, unless otherwise stated. Based on the criteria of SECON scholarships, students must successfully pass the first semester of nursing courses before they are eligible for SECON scholarships in years 2 and 3. Students have the opportunity to apply for scholarships every semester while enrolled at SECON.
Billing statements are sent electronically through the appropriate campus email account and payment is due to the campus at which the student will be matriculated, depending on the year of the partnership that they are entering.
Years 1 & 4 = SUNY Poly
Years 2 & 3 = SECON
You are required to be aware of the total cost of attendance for each year of enrollment in the partnership.
All new first-year students are required to live on campus at SUNY Poly for year one unless granted a housing waiver to reside with a parent within a 30 miles radius of campus.
In years two and three, students can choose to either stay on campus at SUNY Poly or rent housing next to the SECON campus that is owned and operated by St. Elizabeth Medical Center.
In year four, students can reside on campus at SUNY Poly, or live off-campus in their own housing and commute or attend completely online. Students can remain on SUNY Poly's campus all four years if they choose.
*Note: During years 2 & 3, SECON classes begin 2 to 3 weeks prior to the start of the academic year at SUNY Poly. Students will also need to stay an additional 4 weeks in the summer for NUR 122 and NUR 300. Students residing in the SUNY Poly residence halls may be assessed additional charges during this time.
At SUNY Poly, students residing on campus choose a board plan when submitting their on-campus housing application. Commuter students have access to the various eateries on campus as well.
At SECON, students are able to use the St. Elizabeth Medical Center cafeteria on a cash basis during its hours of operation.
For year 1 of the program at SUNY Poly, new first-year students will participate in SUNY Poly's First-Year Orientation program.
For year 2 of the program, students will participate in SECON's Freshman Orientation program.
Students will be assigned an advisor while attending SUNY Poly & SECON who will be the student's advocate in all matters during their time in the program. If they are unable to answer any questions or concerns, the advisor will assist students in obtaining the needed information from the correct individuals at each campus.
Advisor Contact Information:
Important information regarding coursework and sequencing:
Taking coursework outside of the plan of study without prior approval may result in the courses not counting towards degree requirements and may limit a student's ability to progress through the program in a timely manner.
Some courses within the program have prerequisites that must be satisfied before progress can occur. Students who take Advanced Placement (AP) courses in high school must earn a score of 3 or better on the exam to earn credit in the partnership program.
Students must follow the 1+2+1 plan of study and maintain at least a 2.75 cumulative GPA after year 1 at SUNY Poly. SECON requires transfer courses to be completed with a 'C' grade or higher. Students will be notified if they do not meet these requirements. 
Important notes regarding matriculation:
Upon acceptance to the 1+2+1 program, students will pay a $200 enrollment confirmation fee and will matriculate at SUNY Poly for year 1.
During years 2 & 3, students will be matriculated at SECON and will pay a $50 matriculation fee.
If a student does not successfully complete their nursing courses at SECON during years 2 and 3, they will be academically dismissed from the partnership program. They may reapply to SECON and if reaccepted will be offered the option to remain in the 1+2+1 program, or instead attend the traditional SECON AAS degree program. Students with a failure in a nursing clinical course will not have the option to reapply to SECON or the partnership program.
Exposure to the typical four-year college lifestyle at a fraction of the cost.
Participation in over 600 hands-on clinical hours beginning the first semester at SECON.
Eligibility to take the National Council Licensure Exam (NCLEX) and work as an RN after graduation from SECON in year 3.
Experience a nursing curriculum that is designed to support academic success with experienced faculty who are consistently available to help.