Offered Online Only
The Master of Business Administration (MBA) degree is the most widely awarded and recognized graduate degree in the field of business. The MBA in Technology Management is a degree program that offers a broad and integrative perspective across business functions, and a chance to specialize in a field of the individual's choice. It also responds to the current needs of business communities by combining a rigorous study of traditional management topics with a unique focus on technology and innovation leadership.

The program prepares students for upper-level management jobs by stressing the use of contemporary techniques to frame, analyze, and solve business challenges. The program's diverse coursework is grounded in evidence-based management, finance, accounting, and economic principles. It incorporates the use of quantitative and qualitative analyses, design-thinking approaches, and robust experiential learning techniques.
The MBA curriculum is designed to prepare students for management and leadership roles, especially those that are involved with emerging and evolving technologies. Our well-qualified graduate faculty and the modern technological infrastructure at SUNY Poly provide an ideal student-centered learning environment to integrate technology with practical management curriculum.
The MBA program accommodates both full-time and part-time students. Full-time students can complete the program in two years. Part-time completion will vary based on total number of credits taken each term.
MBA degree holders can seek careers in a wide variety of areas such as corporate administrators, business entrepreneurs, industry consultants, and government administrative employees. The broad learning scope and advanced professional training in the MBA curriculum make it possible for graduates from this degree program to hold positions in a variety of roles in diverse industries, government, non-profits, and entrepreneurial ventures.
---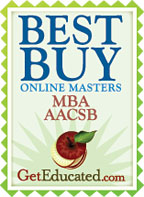 For admissions questions/information contact:
Alicia Foster, Director of Graduate Admissions
(315) 792-7347 | alicia.foster@sunypoly.edu
For academic questions/information contact:
Dr. Rafael Romero, PhD
Associate Professor & MBA Program Coordinator
(315) 792-7207 | frr1@sunypoly.edu
---
Master of Business Administration (MBA) Brochure
Click 'Fullscreen' or zoom in to view.