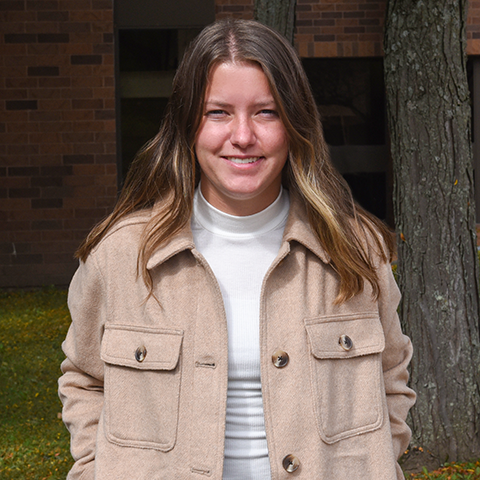 Montana Wolf
Major: Electrical Engineering Technology
Hometown: Cincinnatus, New York
Expected Graduation Year: 2023
Campus: Utica
Why did you want to become a Student Ambassador?
I was very involved in clubs and activities in the community and at school when I was in high school. When I came to SUNY Poly, I wanted to get involved at the university. SUNY Poly creates its own little community because of where we are located and becoming a student ambassador has allowed me to share the best parts of our school with accepted students and students looking to come to SUNY Poly in the future.
What has been your favorite part about being a SUNY Poly student so far?
My favorite thing about SUNY Poly is the sense of community on campus. Coming from a small town I knew almost everyone. I wasn't sure that I wanted that in college, but after coming to SUNY Poly I am certain that it is the perfect fit for me. With our small class sizes, you can get to know your classmates and professors. One of the best advantages of the small class sizes is that you can have one-on-one conversations with professors about classes. Having a small campus allows for a lot of networking between professors and students, which is very beneficial, not just for your education, but also for your career in the future.
What has been your favorite on-campus event?
My favorite on-campus events are women's soccer games! Although I might be a bit biased since I am on the team. I love representing our college in something I love and I'm glad I got the opportunity to continue to play at the college level. It is so great when you have a lot of fans in the stands at home games that are cheering you on and supporting you. It shows you how many people enjoy Poly and everything it has to offer.
What is your favorite place on campus and why?
My favorite place on campus is the Field House. My first SUNY Poly experiences happened at the Field House and that is where some of my favorite memories were made. As a member of the soccer team, I spent a good part of my first fall semester there. We have such a nice facility that is host to a variety of activities and events. Also, when you are in the gym, you can see almost the whole campus which is just a cool sight.
Is it easy to get involved on campus? What clubs and/or organizations are you involved in?
It is very easy to get involved on campus! I am on the women's soccer team which not only allows me to be involved with my team, but the other sports teams as well. I'm not in any another clubs or organizations yet, but I have participated in a handful of events put on by our clubs/organizations that are great! It's so easy to get involved without being in a club/organization because they put on many events that you can attend and find out about on an app called Corq or just from postings around campus about them.
What is your favorite thing about the Utica area?
I grew up in a small town where we only had a grocery store, a pizza place, and a gas station. If we wanted to go to Walmart, shopping, or to eat we had to drive 30 minutes to an hour to experience those things. Don't get me wrong, I love where I live, but at my home away from home in Utica, I get to experience what it is like to live close to so many things.
What is one piece of advice that you would give to students who are thinking about applying to SUNY Poly?
My advice to anyone who is thinking about applying to SUNY Poly is to have a conversation with a professor and student in your program! This conversation will give you a sense of the academics and the college life. Talking to professors at Accepted Student Day was one of my biggest decision-makers for attending SUNY Poly; they were so nice and helpful! Another tip I have for applying to colleges is to write a list or think of the most important things that you want in a college. Before making a decision, decide what is most important to you and make sure your choice has that or will be able to do that for you. In the end find the college or university that you will be the happiest at for the next four years because that is the most important part!