Save the Date
Day of Giving 2021
Thursday, April 15
GIVE TODAY. TRANSFORM TOMORROW.
What makes SUNY Polytechnic Institute so special? Our alumni, students, parents, faculty, and staff who pull together to help our students succeed.
The SUNY Poly Foundation will host its annual Day of Giving on Thursday, April 15 beginning at 8 a.m. The 24-hour online fundraising event is a convenient way for alumni and friends to contribute in an effort to move the university forward and ensure students can proceed with their education -- despite the economic challenges many of our students are facing today due to the COVID-19 pandemic.
As an added benefit, your gift will have double the impact thanks to an anonymous donor who has pledged a matching gift of $30,000. With your help, we hope to take full advantage of this challenge grant ultimately raising $60,000 in support of our students and our campus.
Unrestricted donations will provide the SUNY Poly Foundation with the flexibility to divert funds where they are needed most to achieve a strategic goal, support an emerging initiative or address significant or unanticipated student and campus needs.
Please help us meet our goal of 221 donors in honor of the '20-'21 graduating class. No gift is too small and every gift when added with other gifts is transformational.
For more information on SUNY Poly's Day of Giving, please contact Andrea LaGatta, Assistant Vice President of Development at alumni@sunypoly.edu or call 315-792-7110.
Please join us and make your gift today!
You may also mail your contribution to:
SUNY Poly Foundation
100 Seymour Rd.
Utica, NY 13502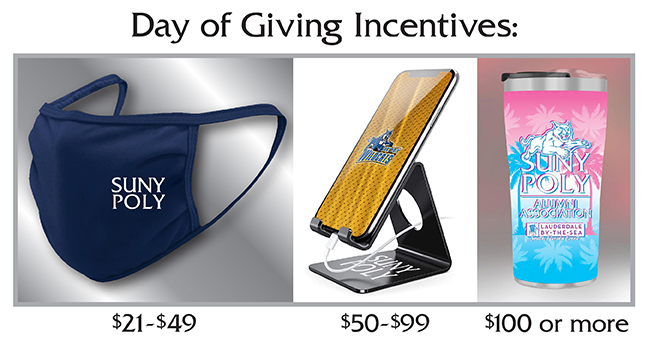 Be sure to follow us on social media: