Thank you for supporting the SUNY Poly Foundation!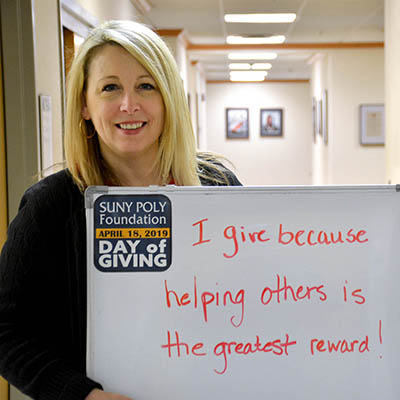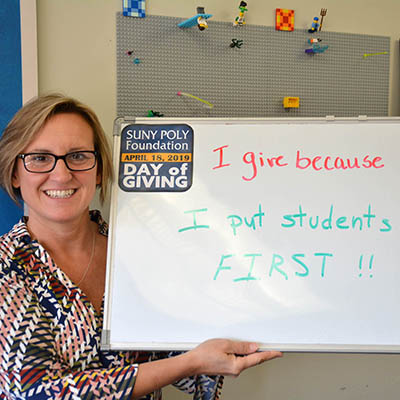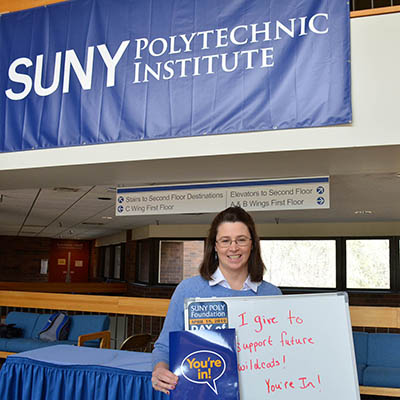 In 2018, the SUNY Poly Foundation awarded more than $365,000 in annual scholarship funds to deserving students. Scholarships are an important and powerful tool that can be leveraged for better student outcomes. But we need your help!
SUNY Poly's faculty and staff gave more than $17,000 to the college last year to help support student scholarships. Your investment is meaningful and sets a high standard for our campus community.  Please consider making a gift to this year's Day of Giving. Proceeds will support the Emergency Fund to help students who are experiencing unforeseen financial hardships due to situations such as homelessness or threat of eviction, medical emergencies, domestic violence and loss of employment to name a few.
Gifts made through payroll deduction are the most convenient way to demonstrate your generous support. Just $3.85 per pay period results in a $100 gift per year. Check out the contribution chart to see how far your gift can grow over the year.
To set up your payroll deduction, please fill out a Payroll Deduction form (pdf)  and return it to the Development Office. For more information on SUNY Poly's Day of Giving, please contact Andrea LaGatta, Assistant Vice President of Development at alumni@sunypoly.edu or call 315-792-7110.
Contributions per 26 pay periods
| | |
| --- | --- |
| $3.85 | $100 |
| $5.77 | $150 |
| $7.70 | $200 |
| $9.62 | $250 |
| $11.54 | $300 |
| $15.39 | $400 |
| $19.24 | $500 |
| $28.85 | $750 |
| $38.47 | $1,000 |
| $57.70 | $1,500 |
| $76.93 | $2,000 |