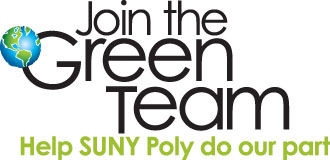 The Green Team is here to help raise awareness about how SUNY Poly is "green" and is involved in sustainability projects.
We are currently developing new opportunities for students to participate in project-based learning in green building design and greenhouse gas emissions reduction, as well as service-learning experiences in environmental monitoring and restoration.

 
---
Green Team Projects Underway (please contact us if you want to help)
Food2Energy composting program
Develop a comprehensive University Sustainability Plan.
Green Team Projects Completed
Tree Campus USA (2018).
Campus Forest Carbon Inventory and Sequestration Estimates (4/18).
Completed Sustainability Tracking, Assessment, and Rating System (STARS) report (4/16).
Worked with OHSWA to implement campus-wide adoption of single stream recycling (8/18/14).
 Faculty workshop for infusing sustainability into curriculum (6/3/14).
 State Park Clean Up Day volunteer actions (5/3/14 & 5/2/15).
Installed electric vehicle charging stations (11/2013).
Completed waste audit of mixed-use administrative/academic building (Kunsella Hall)  (4/24/13).
Completed first-ever Inventory of SUNYIT Greenhouse Gas Emissions (12/11).
Lights-Off stickers deployed in Donovan Hall (2012).
Launched campus carpooling network 511NYRideshare (2012).
Competed in Campus Conservation Nationals residence hall energy and water challenge (April 2012, 2013, 2014). 2014 Power of SUNY competition against U Albany, Stony Brook, and New Paltz (4/4/14 - 4/25/14).
Local food day (Earth Day 2013, 2014, 2015).
Organized Sustainable Tour D'Utica climate action and awareness bicycle rides (2011, 2012).
Promoted Dark Green Days powerdown events (2012, 2013, 2014)
Relayed articles from Climate Change Information Project (2012, 2013).
Hosted LEED Building Showcase for USGBC Green Apple Schools Day of Service (September 2012, 2013).
Participated in EcoChallenge Energy Efficiency (October 2012, 2013, 2014).
Added bicycle rack at Mohawk Residence Hall (2014).
New Course in Sustainability Approved: Bio 106 Solutions for a Sustainable World.