The Center for Student Involvement is here to help create and support positive out-of-the-classroom experiences and interaction. We create and interpret campus policies for the campus community. In addition, we play a supportive role in the management of student and campus-wide events. We support over 30 clubs and organizations that provide numerous opportunities for extracurricular and volunteer activities. Clubs can provide leadership roles for those looking to work with an existing club or for those who wish to start their own.
Keep up-to-date with club activities by using SUNY Poly Engage
The Center for Student Involvement supports the idea that students learn a great deal of information outside of the classroom. SUNY Poly students who are fully engaged in our campus life will be exposed to various cultural events, performing arts, as well as a large number of entertainers from around the world. These programs are coordinated by SUNY Poly faculty, staff, and students who work hand in hand to provide a wide range of activities for our students.
The Center for Student Involvement also:
Orchestrates the new student orientation program
Coordinates student organization registration
Advises student government, clubs, and organizations
Coordinates programming for major campus weekends
Interprets campus policies and procedures
Stop by the Center for Student Involvement (Student Center SC105) or call 315-792-7530. Questions? email Jennifer.George@sunypoly.edu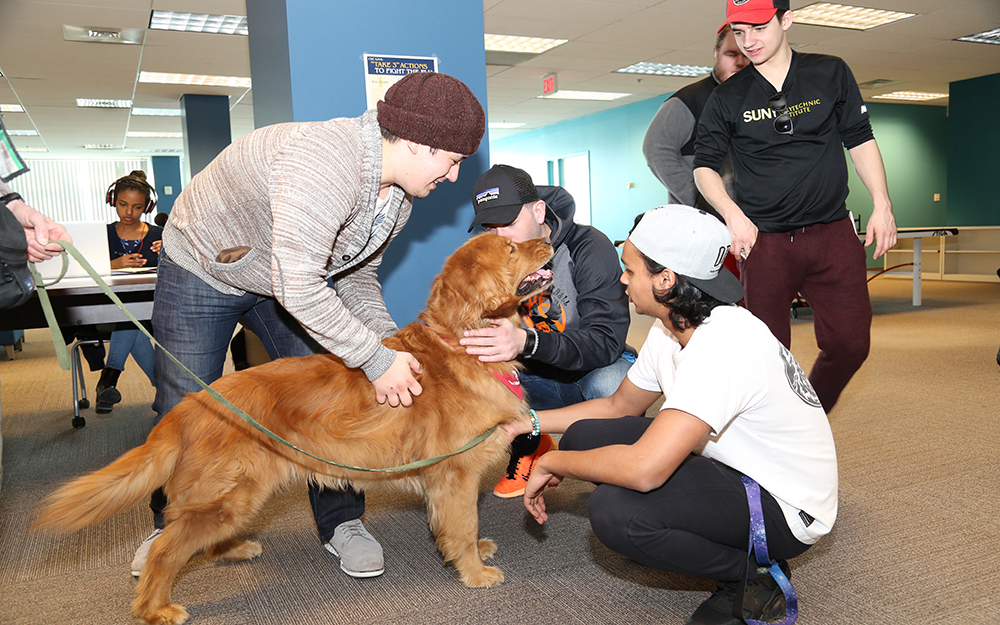 Take a break and relax from studying while destressing with dogs.
Hang out and have fun in our game room!