Welcome to the SUNY Poly MakerLab! You've found the place where the SUNY Poly community – students, faculty, and staff – can do the following:
Brainstorm
Design
Learn
Tinker
Collaborate
Share
Create
Prototype
Build
Have an idea? The MakerLab is the place where you can bring it to life. Want to learn a skill, craft, or technology? You can do that here, too. The MakerLab welcomes all interests and levels of expertise: come here to learn, share, collaborate, experiment, and explore.
The SUNY Poly MakerLab is guided by four principles:
Accessibility – our goal is to make knowledge, technological skill and know-how, and creativity accessible to every member of the SUNY Poly community.
Openness – we are guided by a mission of openness in the multitude of ways the word suggests: open to ideas, open to experimentation, open-ended inquiry, open source, and opening knowledge to everyone who seeks it instead of putting it behinds walls and barriers.
Collaboration – the MakerLab is designed for sharing: sharing ideas, knowledge, skills, and experience. In doing so, we cultivate our creative and collaborative community.
Interdisciplinary – the MakerLab is non-specialized by design. Our mission is to bring together students and faculty from all disciplines and programs because we know that the most creative ideas and best solutions emerge at the intersections of different fields and perspectives.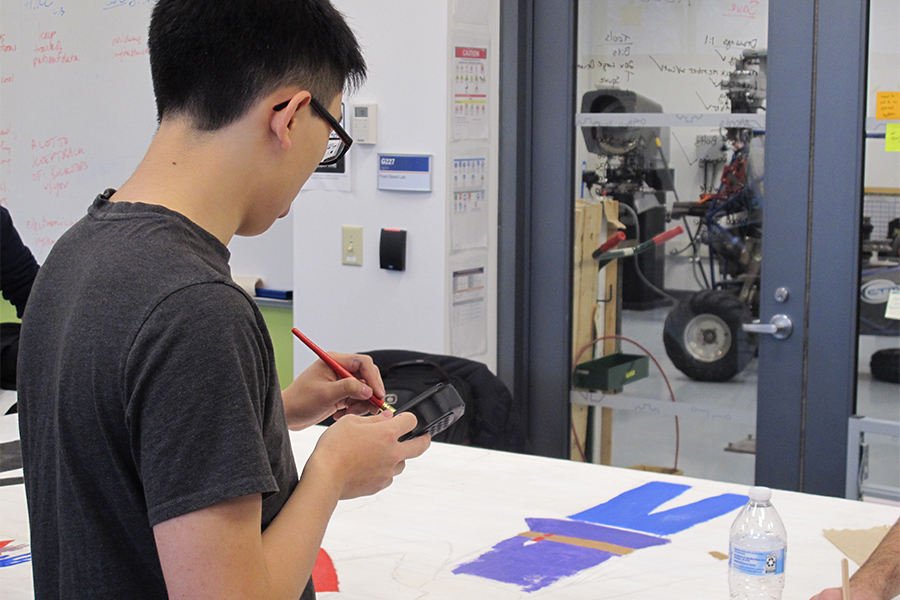 Creativity is flowing inside the MakerLab.
Student collaboration is a big part of the MakerLab.