OFFERED ONLINE
Health information management professionals work in a variety of different settings and have various job titles. They often serve in bridge roles, connecting clinical, operational, and administrative functions. These professionals affect the quality of patient information and patient care at every touch point in the healthcare delivery cycle. Having skilled HIM professionals on staff ensures an organization has the right information on hand when and where it is needed while maintaining the highest standards of data integrity, confidentiality, and security.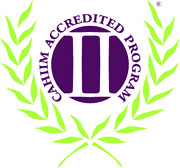 HIM professionals are highly trained in the latest information management technology applications and understand the workflow in any healthcare provider organization from large hospital systems to the private physician practice. They are vital to the daily operations management of health information and electronic health records. For more information about the field, visit: www.ahima.org/careers/healthinfo.
Graduates of the SUNY Polytechnic Institute health information management program and students in their last semester are eligible to sit for the registered health information administrator (RHIA) examination of the American Health Information Management Association.
Accreditation
The Health Information Management program accreditor of SUNY Polytechnic Institute is the Commission on Accreditation for Health Informatics and Information Management Education (CAHIIM). The College's accreditation for the Baccalaureate degree in Health Information Management has been reaffirmed through 2027. All inquiries about the program's accreditation status should be directed by mail to CAHIIM, 200 East Randolph Street, Suite 5100, Chicago, IL, 60601; by phone at (312) 235-3255; or by email at info@cahiim.org.
Program Outcomes
Job placement rate:
2020 - 2021 graduates: Of the 22 graduates, approximately 73% were employed in a healthcare setting or an HIT educational program, 4.5% were attending law school on a full-time basis, 9.1% were not seeking employment due to family or personal issues, and 13.6% were unknown.
First attempt RHIA exam pass rate:
2020 – 2021 graduates who took the exam: 78% (Nat'l average: 66%)
Student satisfaction:
2020 - 2021 academic year: 100%
Employer satisfaction:
2020 - 2021 academic year: 100%
Graduation Rate:
Of the 22 full-time and part-time students who graduated between Dec. 2020 and May 2021, 75% graduated within the normal time for graduation completion.
For more information, contact:
Lorraine Kane, M.S., RHIA
Associate Professor and Coordinator
Health Information Management Program
Office: 315-792-7390
Department: 315-792-7295
Email: lorraine.kane@sunypoly.edu
Please note: This program requires an internship, field experience, study abroad component, or clinical experience requirement. Students who have previously been convicted of a felony are advised that their prior criminal history may impede their ability to complete the requirements of certain academic programs and/or to meet licensure requirements for certain professions. If applicants have concerns about this matter please contact the Vice President for Student Affairs Office at (315) 792-7505.