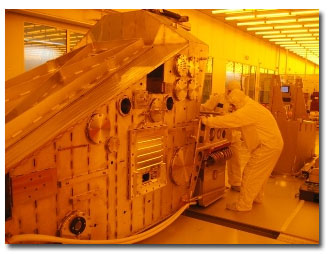 SUNY Poly is pleased to have received the world's first extreme ultraviolet (EUV) Alpha Demo Tool (ADT). This $65 million dollar tool represents a critical step in the development and commercialization of EUV technology, vital to the future of nanoelectronics manufacturing.
ASML 300mm ADT EUV
Developed by Netherlands-based ASML Holding NV (ASML), the leading global supplier of advanced lithography tools, the EUV ADT is the world's first full-field EUV tool. This R&D tool has been essential in development of the infrastructure for EUV lithography, considered the most likely technology to address the 32nm computer chip device node, based on cost-effectiveness and ability to extend to future nodes, according to ASML.
Now integrated into SUNY Poly's Albany NanoTech complex, the EUV ADT will support the R&D programs of the $600M International Venture for Nanolithography (INVENT), a global industry-university consortium for research and development, education and technology deployment for future generations of nanolithography applications.
| | | | |
| --- | --- | --- | --- |
| 300MM EUV Patterning | Trench | Line | Via |
|   | 1:1 |   |   |
|   | 35 nm L/S | 35 nm |  35 nm |